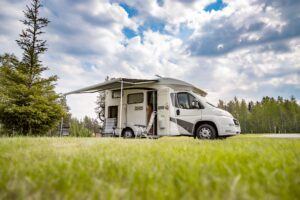 Building a new home is extra exciting, especially as you finally see ground break and your vision starts to take shape. But one huge problem that looms over anyone building a new home is…where do I stay? Whether you're just one adult or an entire family, finding accommodations while the new residence is under construction is a challenge.
Temporary RV Housing is the Solution
What if we told you that you could live on your very own property while your new home was being built? What if we told you that you would have access to electricity, hot water, a kitchen, and other amenities as well? What if we told you that you don't have to uproot your entire family's lives for weeks or months, living out of suitcases in a shady motel? The solution to the issues of needing somewhere to live during your new home's construction is easily temporary RV housing. Here at RV Housing Group, we deliver your RV(s) directly to the setup site, which in this case would be somewhere on your existing lot out of the construction danger zone (or anywhere you choose). We'll hook you up to the existing electricity and plumbing lines on the property and make sure you know everything about operating your new home away from home. Once your new home is built and you're moved in, we'll come back and pick up the RV(s) to give you your yard back. It's really that easy!
Call RV Housing Group for More Information
Ready to start construction on your new home?  There's no need to live in shared lodging when you can have your own space, right on your own property. Contact RV Housing Group at (800) 656-8706 to schedule delivery of a quality, spacious, and comfortable RV for you and your family to enjoy while your dream home is coming to life.