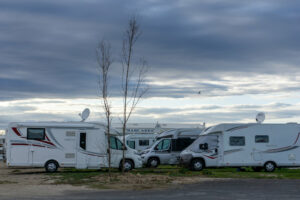 Catastrophes happen all over the globe every single day. From hurricanes to earthquakes to wildfires, we can turn on the news and see a full range of natural disasters play out any day. But what happens to all those people who have lost their homes? Where do they go? With the nation already in a housing shortage, how can displaced families be sheltered affordably?
RVs are the Best Solution for Catastrophe Displacement Housing
Home prices and rents are climbing all over the country with no end in sight. At this rate, there's no way you could place your clients displaced by a natural disaster or some other catastrophe into private, single-family accommodations without busting the budget wide open. The next option that probably comes to mind is renting rooms in a hotel, motel, or motor lodge, but this is also expensive and comes with a host of safety and privacy issues.
So what's the solution? RVs. RVs are affordable, able to adapt to almost any location and offer privacy that can't be matched with other short-term rental options. Here at RV Housing Group, we consult with insurance companies, government agencies, and work crews to find out what sizes and types of RVs are most suitable for the catastrophe location. Then we deliver and set up those RVs to existing utility connections (if available) without any relief workers having to lift a finger because we know how thinly stretched resources usually are when working at catastrophe sites. Once we're done, displaced families will be able to immediately move inside and take some much-needed refuge from the chaos around them.
RVs Can be a Solution for Relief Workers Too
It's not just displaced families that need somewhere to go during catastrophes. All those relief workers need somewhere to set up camp, discuss operations, and rest. But during a catastrophe, there may not be any safe buildings to occupy for these purposes, and driving back and forth from the nearest operational hotel might not be a feasible option. This is where RVs shine again!
RVs can be set up in the active area as a place for relief workers to handle their business, collaborate with other groups, eat, and safely rest while not in action. We suggest setting up multiple RVs for relief workers, each with its own purpose so that workers making plans for the day or cooking meals aren't disturbing those trying to sleep after working all night. 
Quality, Affordable RV Rentals are Just a Click Away
If your organization or group responds to catastrophe situations and needs a temporary housing and work solution while there, there is no better option than affordable, safe, and private RVs. Just visit https://www.rvtemphousing.com/ to check out the services we offer, then get in touch with us to discuss your group's specific RV needs. We provide RVs for all situations, including catastrophes, insurance renovations, worksites, fumigation evacuations, and more. Come find out how you can keep your clients, employees, and bottom line happy with all the options provided by RV Housing Group!