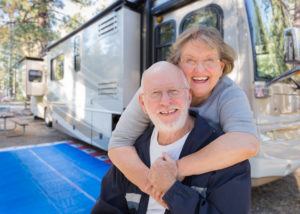 If you're working to provide temporary housing for one of your clients, you know how difficult it can be to find something affordable, convenient, and safe. There are very limited options in terms of temporary housing in the first place, so trying to find something that will keep your clients comfortable and satisfied can be a chore. And, when an area where many of your clients live gets struck by a devastating event, such as a flood, hurricane, tornado, or earthquake, finding enough decent temporary housing can be downright impossible.
Finding quality temporary housing for your clients doesn't have to be so difficult. With temporary RV housing from RV Housing Group, you don't have to worry about your clients being comfortable in the housing's location, because the RV is placed in their very own yard!
Imagine how happy your clients will be to know that they don't have to leave their homes and belongings during repairs or renovations! Instead of living out of suitcases in a hotel room and driving back and forth to grab forgotten belongings, your clients could be relaxing comfortably in an accommodating RV right there on their own property.
Worried that an RV won't be large enough to temporarily house your clients? Worry not, because RVs now come in a wide variety of sizes and layouts! We have RV options that will fit large families or ones that need special accommodations.
The best part? We'll deliver the RV right to your client's property or location.
That's right… we take the temporary housing to your client without any extra effort on their part. It doesn't get any easier than that!
When your clients are affected by unforeseen damages or natural disasters, the stress is already overwhelming. Don't add more by requiring them to practically move all of their belongings to an unfamiliar and potentially unsafe location. Ease your client's anxiety with an RV matched to their exact needs, delivered right where they need it. Now, that's customer service!
Call RV Housing Group at 1-800-656-8706 or request a quote online today. We work with many insurance companies to provide economical, safe, and comfortable temporary RV housing solutions to their clients, and we'd love to show you how we can help yours too!