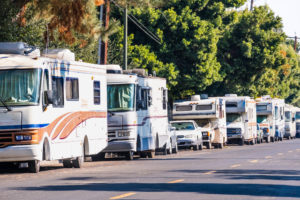 As an insurance provider, you have many obstacles to navigate when one of your clients needs a temporary housing solution. Locating the temporary housing is just the beginning… you then have to work with landlords, utility providers, your own insurance provisions, maintenance personnel, banks, and more to get the client in a temporary home and cover all of the associated expenses. The task of providing temporary housing quickly becomes a monumental time-suck that no agent has time to manage.
Luckily, finding temporary housing for your clients doesn't have to be so difficult. By working with a reputable temporary RV housing provider like RV Housing Group, you can streamline the temporary housing location and acquisition process while saving money and keeping your clients more satisfied.
Why choose RVs as temporary housing over more traditional options? The reasons speak for themselves:
Cost
Overall, using our RVs as a temporary housing solution is much more cost-effective than going with a hotel or short-term rental. With those traditional temporary housing options, you're looking at paying up to $5,000 per month (or maybe, even more, depending on your market) for safe, comfortable, quality temporary housing. On the other hand, RV rentals through our temporary housing program designed for insurance companies will save your company thousands of dollars, while still providing the comfort and safety your clients deserve.
Safety
You should never intentionally put your client in a temporary housing solution that is unsafe, but the reality is that traditional temporary housing options such as hotels and motels come with a variety of risks that using RVs do not. Since we typically place our RVs on the client's own property, they don't have to deal with unsafe areas of town or unfamiliar places. This is especially important for elderly and disabled clients.
A lesser thought of issue is what happens if your client is the victim of a crime while staying in a temporary housing option your company provided as part of their policy coverage? If a court finds that your company should have known the area was dangerous, it could be devastating for you in terms of paying fees and restitution. Luckily, our safer RV placements are better for your bottom line than traditional temporary housing options.
Client Satisfaction
With our temporary RV housing solutions, your client will feel safer, closer to home, and more satisfied. We tailor RV selections to your client's specific needs so that your client and their family of four will never be stuck in an RV option built for just two. We offer a wide variety of features, sizes, styles, and options to suit any client's needs and even accommodations for the disabled! There's no doubt your client will be much more satisfied than with the comfort and privacy offered by our high-quality RVs.
We Provide RVs as Temporary Housing for your Insurance Policyholders
We offer RV rentals nationwide for insurance companies looking to temporarily house their clients due to natural disasters, constructions, renovations, repairs, and more. Call RV Housing Group at 1-800-656-8706 or contact us online today to find out how temporary RV housing solutions can save your company time, money, stress, and even risk of litigation, all while keeping your insurance clients happier and highly satisfied!