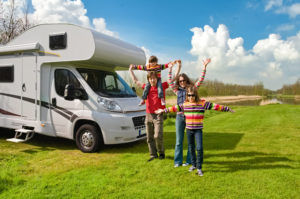 If you're in need of temporary housing solutions for your clients, look no further than RVs. Recreational vehicles are the most cost-effective housing solution available to members and policyholders at your company during events such as natural disasters, fumigations, or repairs. With a variety of styles, sizes, and features to choose from, you can tailor the RV selection process to give your clients everything they need in a compact and space-saving design. In this article, we'll go over the benefits of choosing RVs as temporary housing for your clients.
Clients Stay on Their Own Property
The best cost-saving quality of RVs as temporary housing is that the client can stay on their own property. Since RVs are so compact, we are usually able to fit the unit somewhere in the client's existing yard. This allows the client to retain a sense of normalcy during whatever is causing their housing disruption.
Staying on their own property also reduces costs for you as their insurance provider. When a client has to rehome in a different location, you are then responsible for all the extra costs associated with the displacement, such as covering the extra gas the client is spending to get to and from work due to extra distance. These little costs to keep the client satisfied add up and can turn what is already a costly situation into something downright exorbitant.
When clients are able to stay on their own property, they can usually hook into their own utilities, like electric and water, as well. This means those expenses will be part of the client's normal utility bills and not the responsibility of the insurance provider.
RV Rentals Cost Less Per Month
In 2019, before the economic craziness caused by the COVID-19 pandemic, the average hotel room cost around $130 per night plus tax. Motel rooms can be rented as cheap as $45 per night if you're willing to sacrifice comfort and safety, while an average Airbnb rental in North America runs $161 per night plus tax (and often other fees). So, you're looking at around $1,500 per month to house your client in a seedy motel where no one would feel safe, or $5,000+ per month for decent accommodation, plus a variety of extra expenses due to the client being away from their home. In contrast, the average monthly RV rental rate from RV Housing Group is much lower, since we negotiate directly with insurance companies to provide the best-extended rates, whether it's for one family or an entire neighborhood.
RVs are Safer Than Other Forms of Temporary Housing
Also partially due to the client being able to stay on their own property, RVs offer a level of safety that cannot be matched at a hotel, motel, motor lodge, or another type of communal living. If your client becomes the victim of a crime while staying in temporary housing your company has arranged, you could be responsible for damages and restitution if the court finds your company negligent in the situation. This could end up costing your company thousands of dollars and a heavy blow to your reputation.
We Rent RVs as Temporary Housing Solutions Nationwide
Here at RV Housing Group, we collaborate with insurance companies to provide high-quality, customizable, and affordable temporary housing solutions that keep clients satisfied and safe. We work everywhere in the United States, making us a one-stop, streamlined service that can meet your company's needs in every domestic market. Call 1-800-656-8706 or contact us online for more details or to request a quote today!