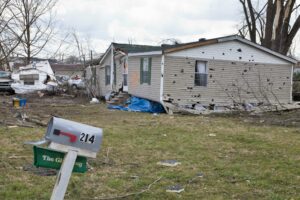 When disaster strikes, there are many elements that must be considered. Where to put displaced families until their homes are safe to enter again is a huge concern. If any homes are destroyed, those people will need refuge until they can find somewhere else to live. In large disasters with emergency personnel coming in from all over the country, local resources may not be enough or in usable condition. These emergency workers also need somewhere to go to plan, strategize, and rest. RVs are a beautiful option that works to meet so many different needs during a natural disaster situation.
Emergency Shelters
When a storm is headed their way, many people in coastal areas evacuate to temporary shelters. RVs can be used as emergency shelters during storms, providing a safe place for people to stay until the storm passes. To be as safe as possible, the RVs must be set up far from the projected storm area to avoid high winds, hail, or other dangers.
Emergency Services Staging Areas
After a natural disaster, such as a hurricane or tornado, RVs can be used as staging areas for emergency services. This means that the RV can be used as a temporary office for first responders and other emergency personnel. This can help to keep them organized and efficient as they work to help those affected by the disaster.
Temporary Housing After a Disaster
In addition, RVs can be used to provide temporary housing for displaced citizens. This can be a more affordable option than staying in a hotel, and it can also provide some sense of normalcy during a time of upheaval.
We Offer RV Rentals Nationwide After Natural Disasters
RVs can be a valuable resource during and after a natural disaster. When used correctly, they can help to keep people safe and organized while they work to rebuild their lives and communities. If you are in need of shelter before, during, or after a natural disaster, contact RV Housing Group to speak with one of our representatives about your needs. We can deliver the exact number and type of RVs to your site, hook them up to existing utilities, and come pick them up when you're done. It doesn't get any easier than that! Request a quote online today!