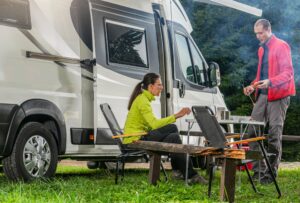 Building a new home is an exciting process, but it can also be quite inconvenient. From the moment you start planning until the day you move in, there are a lot of things that need to be taken into account. One of those things is where you will live during construction, especially if you've already sold your existing home.
RVs Make Great Temporary Housing During Home Construction
Living in an RV can be a great way to have temporary housing during construction. It's affordable, spacious, and can be fitted with all the amenities you need to make life comfortable. If you're thinking of using an RV as your temporary home while your new home is being built, here are some things you need to know:
– RV Housing Group provides short and long-term RV rentals across the entire United States
– We'll deliver the RV to your chosen site and set it up with existing utilities. If you cannot set your RV up at your new home's construction site, RV parks are also a great option for finding a place to park your RV during construction. Most RV parks have hookups for water, electricity, and sewer, which will make life much easier.
– Renting an RV from RV Housing Group is a great way to try out RV living without making a long-term commitment upfront. If you love it, we offer RV sales in some situations. If you don't, then you'll rest easy knowing your new home will be finished soon.
– Make sure to get insurance for your RV, especially if it's going to be parked on your construction site. This will protect you in case of any accidents or damage that may occur during construction.
Privacy, Comfort, Safety, and Affordability
Living in an RV during home construction can be a great way to save money and have a private, comfortable place to stay. Not to mention how much safer staying in an RV is than hotels or motels. Just make sure to do your research and be prepared for the RV lifestyle, even for just a little while. Once you're ready to get started, contact us at (800) 656-8706 or online to get set up with an RV that's the perfect size for you and your family, has the amenities and features you need, and is much more affordable than any other temporary housing option available.