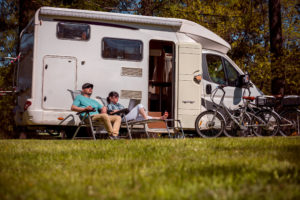 When you need temporary housing solutions for your clients, you'll quickly find that the market is small and often quite expensive. That's why RVs are a great option for any situation where temporary housing is needed. RVs are affordable, reliable, and offer privacy that other temporary housing options can't match.
We often provide RVs as temporary housing for:
Insurance Claims
If you have clients you serve with home insurance, it's not uncommon to need temporary housing for clients and their families if extensive repairs need to be done on the insured property. Housing these families in hotels or short-term rentals is expensive and inconvenient. Even simple things, like their daily commutes to work and school, will be disrupted. 
When you choose RV Housing Group for your client's temporary housing needs, we deliver and set up a quality RV unit directly to their property when possible. This way your client still has access to their home and belongings instead of having to live out of a suitcase. Changes to their routine will be minimal, leading to much higher client satisfaction until they can move back home.
Disaster Relief
Disasters are traumatic and unpredictable, so you want to give your clients as much security and comfort as possible after disaster strikes. By housing clients displaced by the disaster in our affordable RVs, you're giving them much-needed respite and privacy in an already difficult time.
Remote-Site Employees
Many companies do work in the unexplored reaches of America. From the Arctic Circle to the Badlands to Appalachia, work crews are needed everywhere where housing is not. In locations like these, staying at a local hotel just isn't an option, since there may not be any sign of civilization for miles. But these locations are perfect for temporary RV housing units.
We deliver the RVs your work crews need directly to the worksites and set them up with existing utility lines when possible. Your contractors and employees will have more free time and a safe place to rest that is as close as possible to the job site.
Temporary Housing RVs for Every Situation
RV Housing Group is a nationwide provider of RV units for all types of temporary housing needs. No matter what the reason, we'll show up with a convenient RV unit sized perfectly for your needs. Call (800) 656-8706 or request a quote online to get started today.