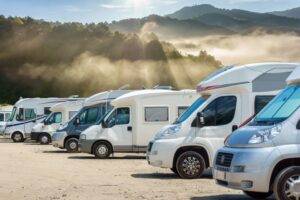 Construction is always a hard job, but when it requires workers to be on the road, living in an unfamiliar place, it makes it even harder. Being away from friends and family, living out of a suitcase, and eating a fast food diet are just a few of the pitfalls of having to work away from home. However, you can bring a little positivity to the situation by making it as comfortable for the workers as possible. That's where RV rentals come into the picture. RVs offer construction workers working on long-distance temporary assignments a little home away from home. In this post, we'll talk about the benefits of using rented RVs for these crews instead of traditional accommodations.
Safety
Construction crews working on temporary, remote assignments are typically housed in hotels, motels, or extended stay lodges. While it can be convenient to have daily housekeeping and a continental breakfast bar, let's face it…these places are dangerous. Criminals and transients are known to frequent and stay at these places to avoid law enforcement and conduct illegal activity under the radar. The last thing you want is your workers getting caught up in a bad situation because the place they were lodged wasn't safe. Instead, RV rentals allow you to set up the worker's camp anywhere with the proper hookups. Many companies opt to set the RVs up on the actual job site, making the morning commute a breeze and giving them more control over comings and goings.
Privacy
Another pitfall of motel living is the lack of privacy. You have to leave your room for almost anything other than using the bathroom or sleeping, so you're always in contact with other people. This can become exhausting after a while. Plus, if you're roomed with another person, then that person has open access to all your belongings, which is just asking for trouble. The better choice is a private, one-person RV rental that lets people lock their items down when they're gone and walk to the kitchen in their underwear if they'd like. It's the little things like this that make RVs the superior choice to hotels and motels.
Versatility
Construction crews might stay in one place for over a year, or they might move from place to place every week or so. It's just the nature of the job to be unpredictable, and when your crew is staying in a hotel or motel, every move requires them to pack up everything they have, haul it out to the trucks, and unpack it in a new place. Not so with RV rentals! If your work site changes, simply haul the RVs to the new site with the worker's belongings inside…no need to pack up. This saves tons of time for crews that are active and mobile.
Affordability
Finally, we need to talk about how affordable RV rentals can be when compared to hotel or motel rates. Even with business discounts, you're still looking at paying $75+ per night for just one room at a hotel or motel in most places. When you have a large crew, this adds up fast. But RV rentals from RV Housing Group can be much less, depending on size and features, so you don't have to hit your profits just to put a roof over your crew's heads.
Nationwide RV Rentals for Construction Crews from RV Housing Group
RV Housing Group delivers and sets up RV rentals nationwide for all purposes, from construction crews to disaster relief to government worksites. For more information on how we can help your construction crew enjoy their next remote temp assignment more with safe, private, and comfortable RV rentals, call (800) 656-8706 or contact us online.